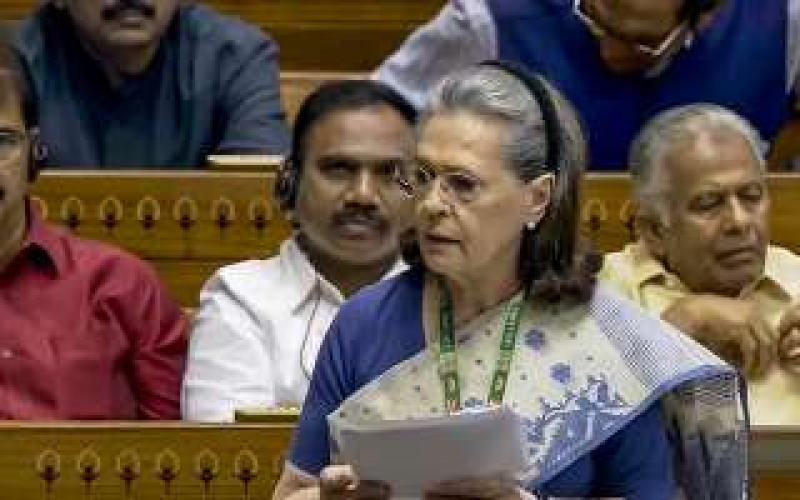 Nationaldesk:
The Lok Sabha on Wednesday began heated debate on the Women's Reservation Bill.  Speaking on the issue, Congress leader Sonia Gandhi has demanded quotas in the quota.  He said that reservation for women of Scheduled Castes (SC), Scheduled Tribes (ST) and Other Backward Classes (OBC) should also be provided by conducting a caste census.  The government should take steps to implement it as soon as possible.
 "On behalf of the Indian National Congress, I stand in support of the Nari Shakti Vandan Act," Sonia Gandhi told the Lok Sabha.  From smoke-filled kitchens to brightly lit stadiums, the journey of an Indian woman is a long one.  But he has finally touched the floor.  She gave birth, she raised a family, she ran swift races among men and with boundless endurance often saw herself lose, but win at the last bet.'
 "The Indian woman has ocean-like patience in her heart, she has never complained about the injustice done to her and has never thought only of her own advantage.  She has worked for the good of all like rivers and stood firm like the Himalayas in difficult times.  It is impossible to gauge the patience of the woman.  She doesn't recognize comfort and doesn't know how to get tired.  Woman is the mother of our great country.  But he has not only given birth to us, but has made us wise and powerful enough to think of himself by irrigating us with his tears and blood and sweat.
 Sonia Gandhi further said, "Only by recognizing the hard work of women, the dignity of women and the sacrifice of women can we pass the test of humanity.  Women have fought shoulder to shoulder with men on every front of the freedom struggle and the creation of a new India.  She is not buried under the burden of her aspirations, sufferings and household chores."
Log in to post comments
4 views